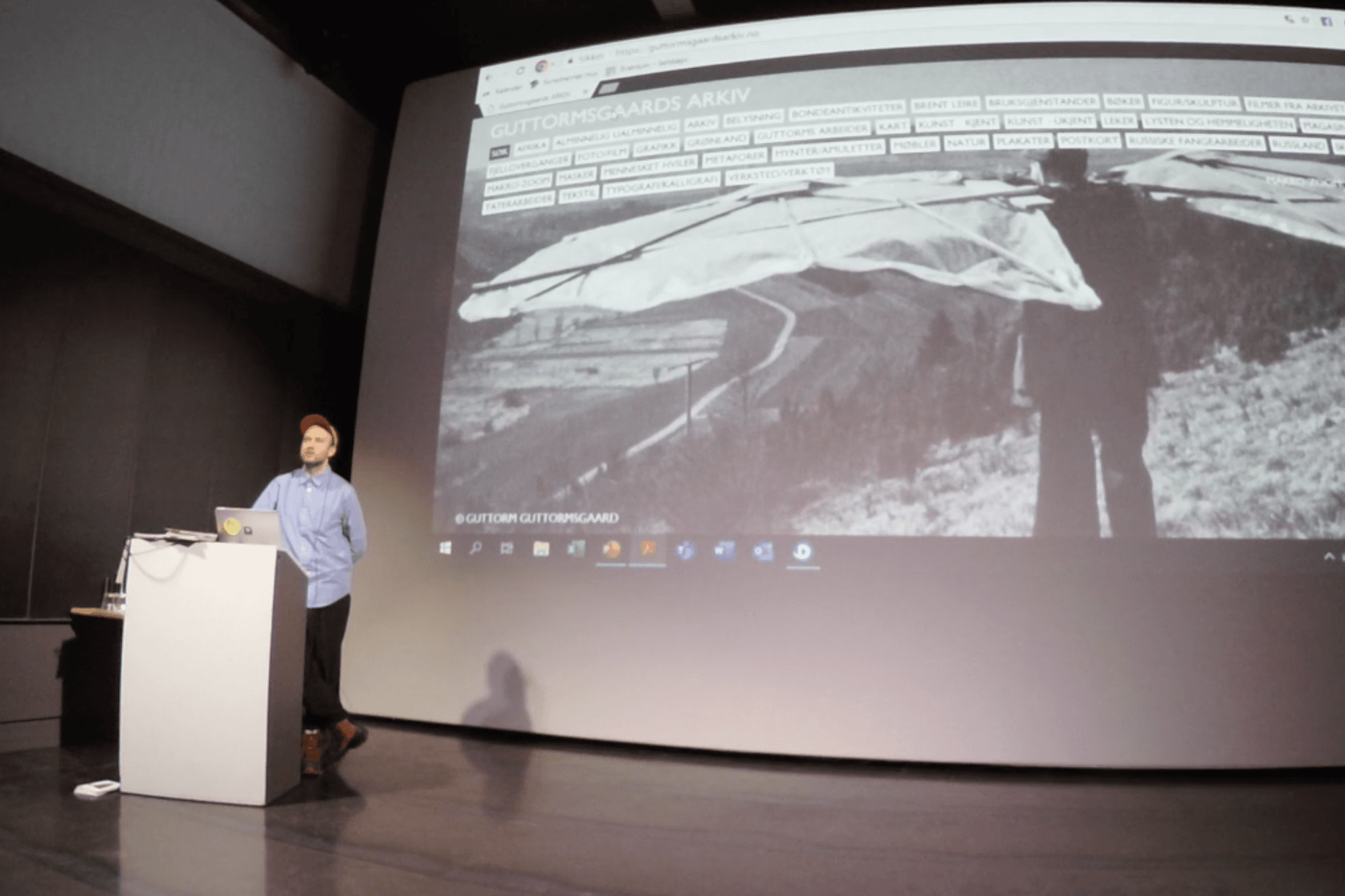 What is Guttormsgaard's archive?
Lecture by Ellef Prestsæter
Sunday 08.12.19
Ellef Prestsæter is the curator of the guest exhibition "Arkivets arabesk" during The Drawing Triennial 2019. The exhibition is based on Guttorm Guttormsgaard's archive which Prestsæter has been involved in for several years. In this lecture held in Norwegian, Ellef Prestsæter will talk more about the archive - free of charge and open to everyone!
About the lecture
The Drawing Triennial's second guest exhibition Arkivets arabesk is based on Guttorm Guttormsgaard's archive, which Prestsæter has been involved in for several years. Guttormsgaard's archive is a unique collection of "art of known and unknown origin" that avoids established divisions and categories. In a disused dairy on Blaker, steel wire tatters are archived side by side with Russian avant-garde books and Tibetan nomad bands, while African headrests have an equally self-evident place as Bendik Riis and Hannah Ryggen. The lecture gives a broad introduction to the archive as an artistic project. In what ways does Guttormsgaard's archive represent an alternative to the established cultural institutions?

The lecture is part of The Drawing Triennial's extended program "Før og etter streken", which opens up a broader reflection on drawing as a general expression and as a tool for understanding the world and ourselves.


About Ellef Prestsæter
Ellef Prestsæter is an art historian, curator, and member of the research group Institute for Computational Vandalism. His exhibition and publishing projects include the Gutenberg Galaxy located at Blaker (2013-2015), These Are Situationist Times (2017-2019) and Rett Kopi dokumenterer fremtiden: Manifest (2007). Prestsæter's master's project focused on the futurist's manifestos. He is currently a PhD candidate in art history at the University of Oslo, where he writes a dissertation on Asger Jorn and the Scandinavian Institute for Comparative Vandalism.