IDA EKBLAD
GIRL FIRES UP STOVE
04.06.21 – 08.08.21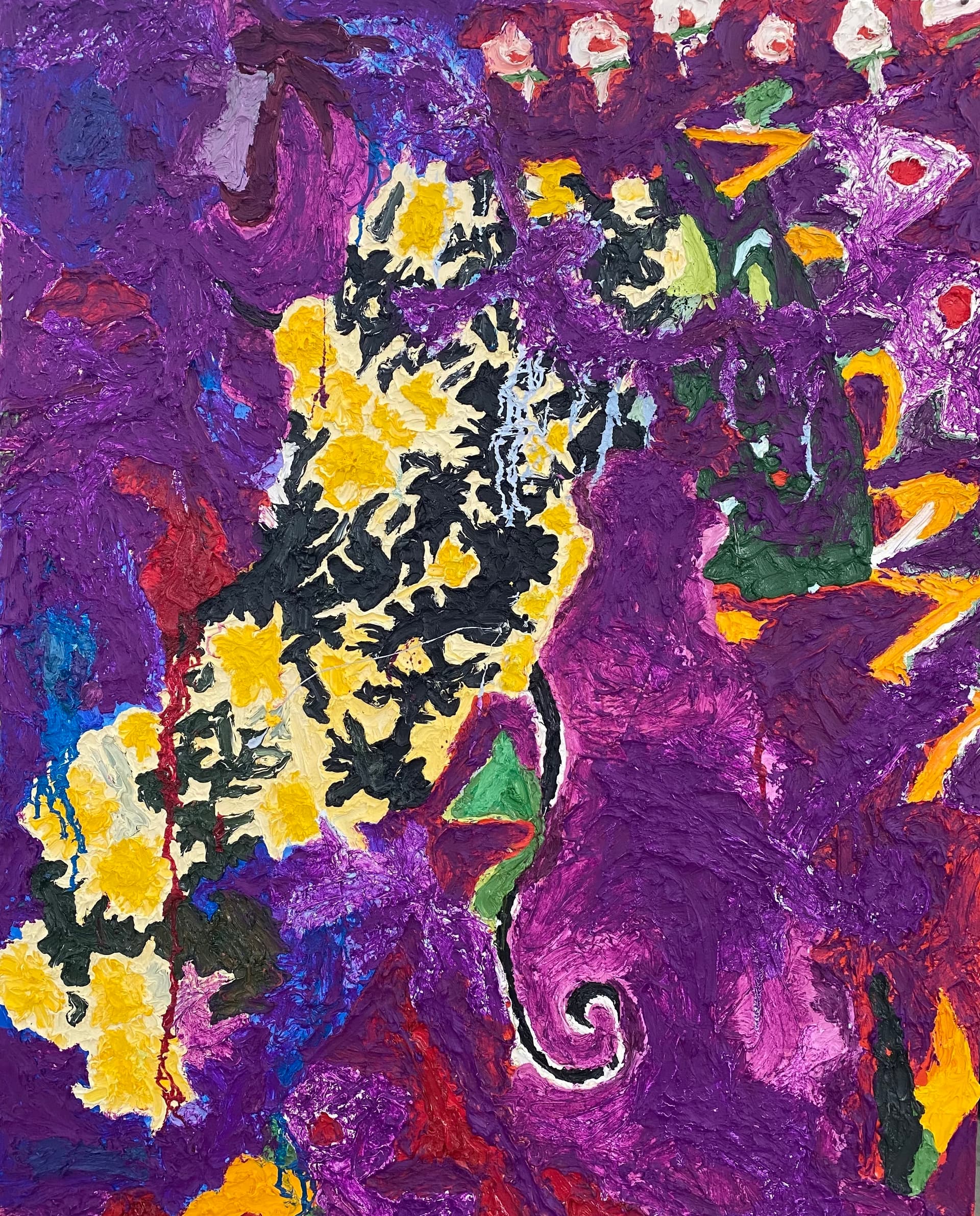 Kunstnernes Hus is pleased to announce the solo exhibition GIRL FIRES UP STOVE by Norwegian artist Ida Ekblad. The artist presents paintings and sculptures in both upper exhibition halls and a monumental sculpture outside the institution. Ida Ekblad is one of the most recognized Norwegian artists working today, and GIRL FIRES UP STOVE is Ekblad's largest exhibitions in Scandinavia to date. Her artistic practice comprises a variety of mediums such as painting, sculpture, performance, video, record production, and poetry.
About the exhibition
For Kunstnernes Hus, Ekblad conceived a show that includes highlights from her most recent production. The exhibition presents a comprehensive installation of new paintings including many institutional loans, as well as a substantial series of sculptural works produced for the occasion. A monumental painted bronze sculpture, which is the first of its kind by the artist, premiers outdoors, placed on Kunstnernes Hus' lawn, and will be a polychromatic landmark in the urban landscape of Oslo until the end of the year.
The title of the exhibition, GIRL FIRES UP STOVE, refers to Edvard Munch's painting of the same name (Pike lægger i ovnen, 1883). It depicts a maid in front of a classical 19th century iron stove. This motif inspired Ekblad to make a series of sculptures for the 'Autumn' skylight hall of Kunstnernes Hus. In Norway, cast iron stoves used to be a life necessity. But they were also used as an effective way of democratizing certain imagery. Traditional stoves had mythical, religious or royal motifs cast onto their sides and these images were transported into ordinary people's homes. Ida Ekblad uses the Norwegian cast iron stoves' pictorial function as a threshold for letting us into her own pictorial universe.
The slim black iron objects have different heights but each of their chimneys are stretching up towards the tall glass ceiling. The sculptures are presented in a serial and minimalistic setup in which these utility objects may seem like abstractions of themselves. However, a closer look at the sculptures reveals elaborated relief plates, feet and pipes with drawings and mystical phrases such as "STRANGE FREEDOMS SHALL BE SOUGHT". These artist designs catapult the viewer into Ekblad's universe in which the poetry of the everyday turns into the "Extra Extra" overload that characterizes her work.
In the opposite room, the so-called 'Spring' skylight hall, it becomes clear that Ida Ekblad 'fires up' the space in another way. A detonation of colours and shapes electrifies the eye. As the artist said about her work "the futurism of it all is often found in the rear-view mirror." Hence, Ekblad does not only "shoplift" her own painterly archive by sampling patterns and motifs to assemble them into new compositions – or even three-dimensional works like the 6-meter-high painted bronze sculpture outdoors – but she also uses extensive source material for her work. Besides cultural historical objects and historical painting, her inspiration includes textiles, surrealism, manga culture, pop art, typography, abstract expressionism, folk art, graffiti and record covers. All of these influences are transformed in this room into a painterly kaleidoscope. Presented in a salon style hanging that covers nearly every centimeter of the walls, the room turns into a holistic experience.
Exhibition leaflet
About the artist
Ida Ekblad (b. 1980) lives and works in Oslo. She has studied at Central Saint Martins in London, the Oslo National Academy of the Arts and the Mountain School of Arts in Los Angeles. She participated in the Venice Biennale in 2011 and 2017. GIRL FIRES UP STOVE is Ekblad's first institutional solo show in Norway in nearly a decade. In recent years, her work has been exhibited extensively abroad, including major solo exhibitions at the Museo Tamayo in Mexico, the Kunsthalle Zürich in Switzerland, the Kunsthaus Hamburg in Germany and the XYZ collective in Japan. In Norway, her work features in the collection of the National Museum of Art, Architecture and Design, Oslo, KODE Art Museums and Composer Homes, Bergen and Astrup Fearnley Museum of Modern Art, Oslo, among others. Ekblad's works are also represented at a number of major international public collections such as the Centre Pompidou, Paris, Moderna Museet, Stockholm, Louisiana Museum of Modern Art, Humlebæk as well as several renowned institutions in the US and around the world.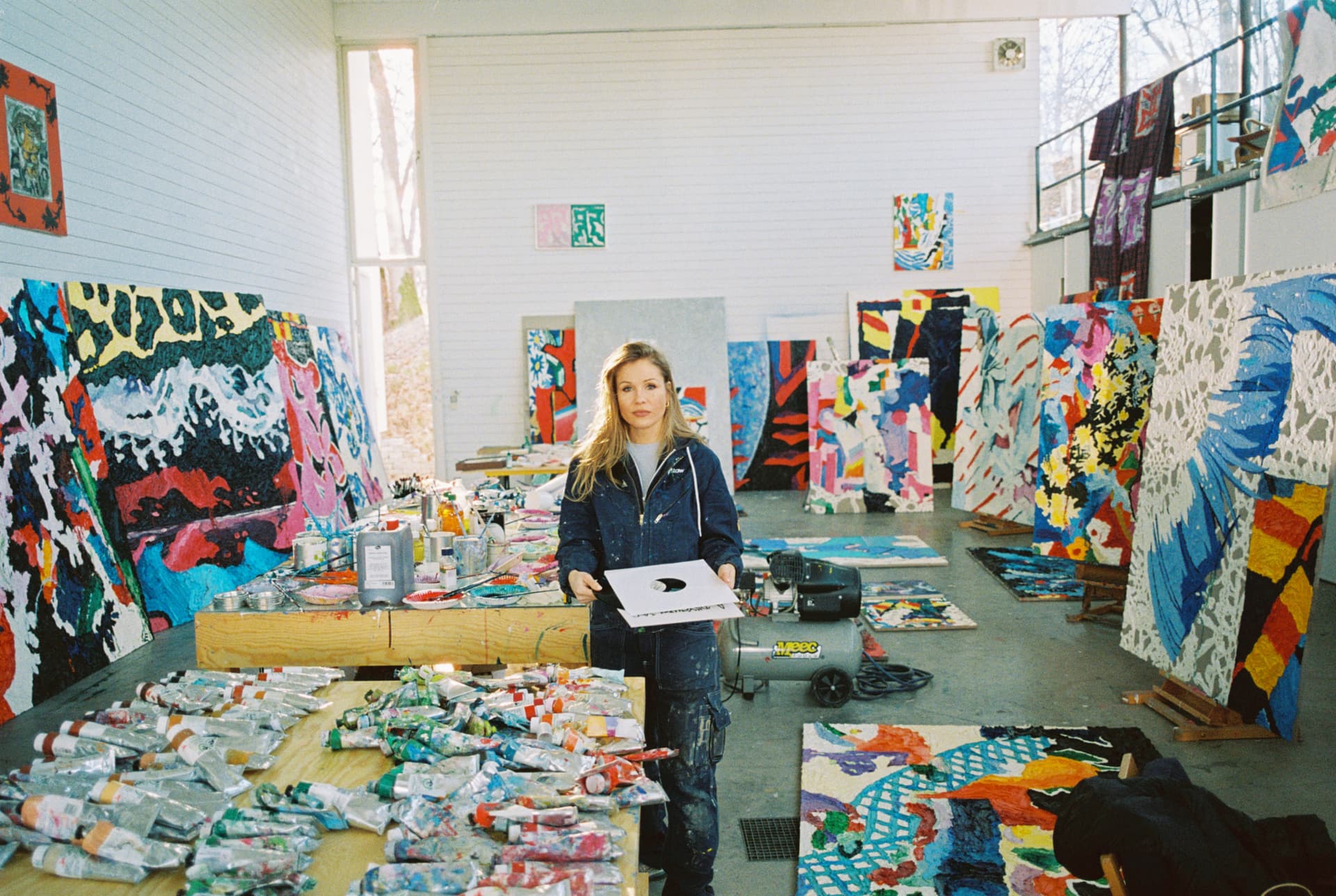 The summer exhibitions at Kunstnernes Hus are a 3-year initiative with Norwegian artists supported by Sparebankstiftelsen DNB.