The Natural State of the Art: 3 Chapters on Art, Nature and Ecology
Chapter 1: Re-Imagine
Friday 21.01.22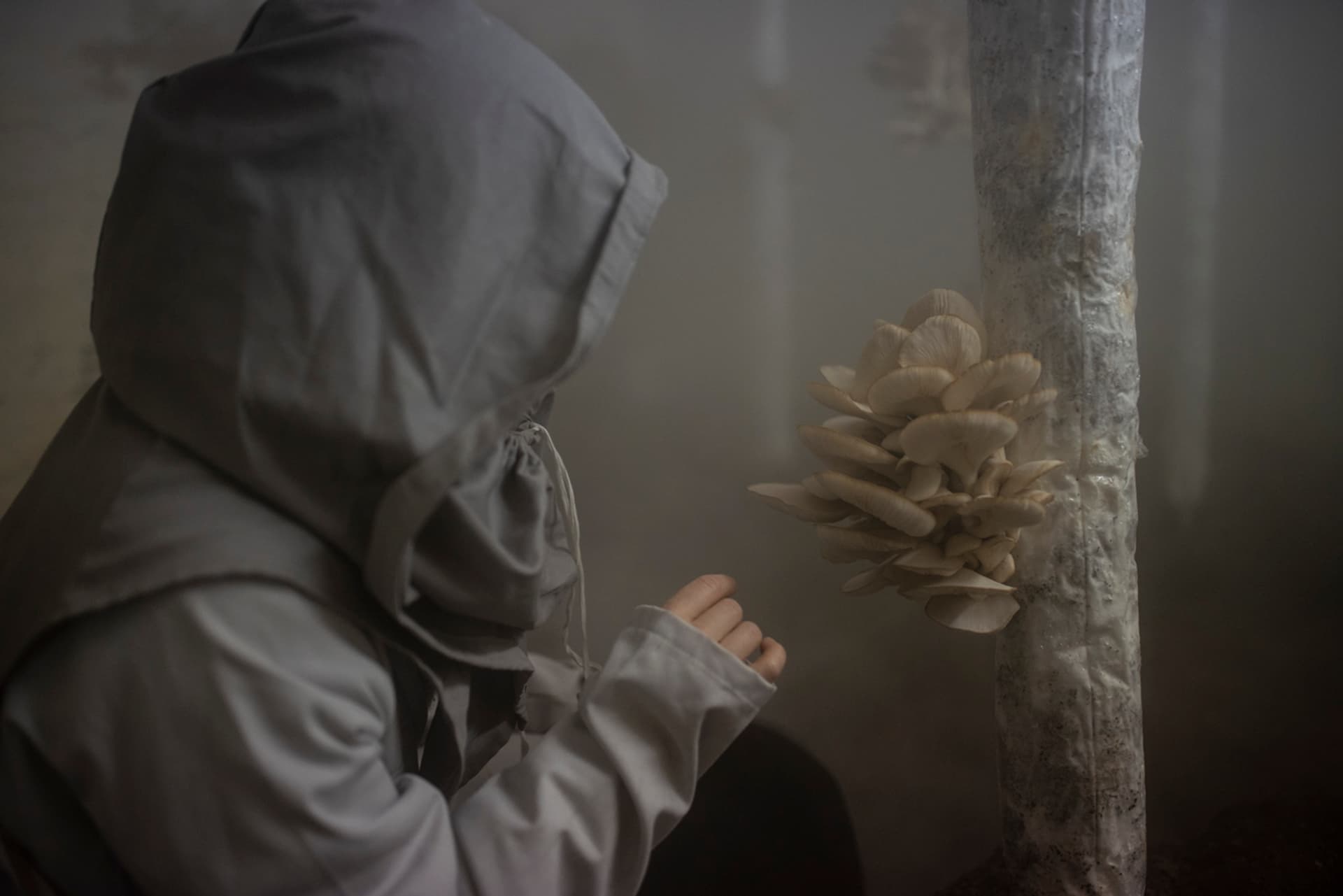 For the Agenda seminars this semester an overall topic will be highlighted and discussed, in three different compilations: Nature and Art. For this first chapter the forest will be in focus, together with the idea of BioArt and last but not least, the human confrontation with the world, and nature as we see and interact with it every day.

The seminar is a collaboration between Oslo National Academy of the Arts and Kunstnernes Hus.
Re-Imagine
Through history, and art history, nature and our surroundings have had an ever changing role. From fear of the wild, to a poetic approach to the same wilderness though wanderings and musings, in harmony and disharmony, and love and fear.The landscape of art has been religious, political and cultural, it is held as something that points far beyond what we place our feet on, and at the same it is evident in our dependence on it for our simple existence.

Our current existence, which bluntly said is characterized by the extreme, can be said to apply to nature too; global warming, the denying of climate change, forest fire, rising of sea levels and the fast extinction rate of animals of different species.

And it is now we create, we stand and we talk, work ahead to reveal what is, and perhaps where we might end up. In these complex times the Agenda seminars want to shed some light on some of the scientific and artistic projects, ideas and thoughts that are being produced in our time, some that wish to give guidance and address the feelings a lot of us encounter when dealing with these topics, existential fear, hope or wonder.
Program
09:30 - 10:00 Coffee
10:00 - 10:45 Eivind Kverme Ronold, EcoForest - Forestry effects on biodiversity, carbon stocks and ecological processes in mature boreal forests
11:00 - 11:45 Odd Fredrik Heiberg, Skiens kunstforening - From forrest to Google
11:45 - 12:00 Sara Sølberg, Sarabande, reading
12:00 - 13:00 Lunch and coffee
13:00 - 13:45 Solveig Arnesen and Eli Skatvedt- Norwegian BioArt Arena – NOBA
14:00 - 14:45 Annike Flo, artist presentation
14:45 - 15:00 Sara Sølberg, Sarabande, reading
15:00 - 15:30 Q&A
Contributors
Eivind Kverme Ronold
Has a MFA in mycology from UiO on how symbiotic fungus in the roots of birch affects its survival and establishment in the mountains. Is now doing his PhD in the project EcoForest, employed at the Institutt for Biovitenskap, UiO. Interested in the diversity of micro organisms in the forest and the interaction between these, and especially how changes in the eco system, both natural and man made, affects and change these interactions. Works mostly with DNA based techniques to reveal which organisms habitate in different substrates and especially interested in symbiotic mushrooms in its role in the eco system.
Sara Sølberg
Debuted with the novel Seismiske smell (2016), for which she was nominated for Tarjei Vesaas' debutant award. In 2017 she received NTNUs litteraturpris. Published the novel Sarabande in 2021. Is a gardener, have studied at Forfatterstudiet in Tromsø and is educated at KHiO with an MFA in Art from the Art Academy.
Annike Flo
Works crossdisciplinary between art, scenography and costume. Inspired by the anthropocen as a concept her work broadly investigates what it means to create in our current era, with a focus on our relationship to other beings. Her projects are often inspired by research, materials and methods from the life sciences and she often collaborates with researchers and practitioners from other fields such as biology and environmental humanities. Annike has previously exhibited at galleries such as Format, Meta.Morf and Atelier Nord, and ran Norwegian BioArt Arena, a new project by Vitenparken Ås, from 2018 to 2021. As a scenographer and costume designer she has worked with Punch Drunk, Secret Cinema, Another and Love magazines, MiuMiu and more. Annike holds a MA in scenography at Norwegian Theatre Academy, and a BA in Costume for Performance at London college of fashion, University of the Arts London.
Odd Fredrik Heiberg
Educated at Vestlandets Kunstakademi (now Fakultet for Kunst, Musikk og Design ved UIB) and finished his MFA in 1996 with a following MFA degree in art and curating at Willem de Koonig Academy in Rotterdam i 1998. In addition to his artistic practice Heiberg also works as an art consultant, curator, project manager, writer and art conveyer. Heiberg has been involved in the development of Kunstnerbyen Skien and was the initiator and leader for Tempo Skien. Heiberg is now executing a three year teaching project in art develpoment and exhibition production for 10th graders. Heiberg has also held a number of roles in the art scene, such as NBKs sentral board, board for KORO and as Head of board for Telemark Kunstsenter. Now Heiberg is Head of board at Lorck Schive Kunstpris and for the regional exhibition Sørlandsutstillingen. Heiberg has done several permanent art installiontions in public spaces and has participated in several solo- and group shows in both national and international context. Heiberg has received several scholarships and have been purchased by Vestfold og Telemark municipal art collection. Odd Fredrik Heiberg lives and works in Skien.
Solveig Arnesen
Solveig is CEO of Vitenparken, where norwegian bio art resides. Vitenparken has investigated relations between research, art and sustainability through a variety of projects over the last 9 years. Solveig is part of the original team for the idea of a norwegian arena for bio art, and has been in the front seat of this development since. She has a broad background as a producer of cultural projects, entreprenourship and business development in the fields of art, research and green sustainable economy. Solveig has an MFA in management wtihin innovation, sustainable economy and digital communication, and an Executive MBA.
Eli Skatvedt
Eli started as a curator and project manager at NOBA 1. januar 2022. She has a of arts from Edinburgh College of Art, and a master of arts from Universität der Künste in Berlin. Before starting at NONU Eli has been the leader and curator at the art foundation Artica Svalbard, where she developed artistic programs and international artist residencies in Longyearbyen. Eli has been based in Berlin for 10 years where she collaborated with Museum Berggruen and curated exhibitions at Kunstraum Kreuzberg Bethanien, The drawing hub, and big art projects around the city. She founded Gallery Salon Mutlu with Zoe Miller. In Norway Eli has worked with Koro, Bomullsfabrikken kunsthall, Haugar Vestfold museum, Lofoten internasjonale kunstfestival, Tromsø kunstforening, Galleri F15, REV Ocean, Galleri Svalbard. She has also contributed as a writer for Kunstforum, Kunstpluss, Numer And a number of exhibition catalogues.