Cynthia reads Sontag
In support of Ukrainian art students at the Vilnius Academy of Arts in Lithuania
Sunday 15.05.22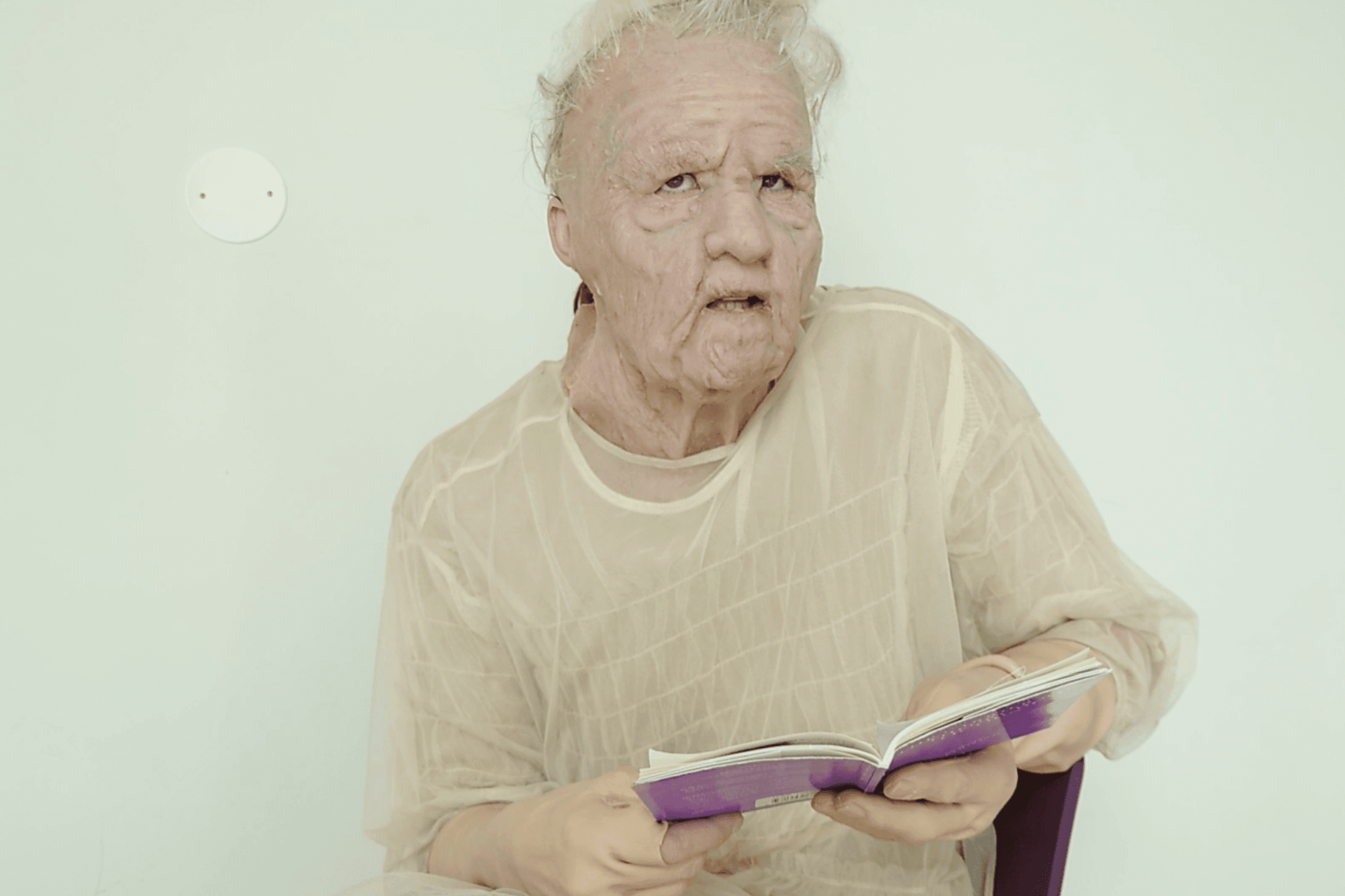 Welcome to a reading of Susan Sontag's text "Regarding the pain of others". Signe Becker's alter ego, Cynthia, is a figure who has emerged during Becker's PhD-project Made life - Staged objects and a staged self at the Oslo National Academy of the Arts. Cynthia is a loud but versatile older woman - constantly changing according to Becker's needs. When Cynthia reads Sontag, actor Espen Klouman Høiner will perform as, and give voice to Cynthia.

The event is supported by Kunstnernes Hus and Oslo National Academy of the Arts.
Background
The war in Ukraine is constantly available to us through our digital image streams. But what kind of function do these images have for us? Do they create closeness or distance to the atrocities of war? Do they make us feel powerless or empowered? Sontag's text provides us with an opportunity for interesting reflections and insights on the relationship between images, suffering and death.
Contributors
Susan Sontag (1933-2004) was an American author, writer and feminist. She taught philosophy at a number of universities. Sontag attracted attention with the essay collection Against Interpretation (1966), followed by Styles of Radical Will (1969). In addition, she published the novels The Benefactor (1963), Death Kit (1967) and The Volcano Lover (1992), the short story collection I, etcetera (1978), and On Photography (1977), an analysis of the innermost meaning and function of photography. In Illness as Metaphor (1978), she went to war against the myth-making associated with illness and death in our society, a theme she addressed again in AIDS and Its Metaphors (1988). The essay Regarding the Pain of Others (2004) is a reflection on the historical role of photography in the dissemination of pain, especially in connection with modern warfare.
(Sources: snl.no, wikipedia.no)
Signe Becker (b. 1981) works freelance as a set designer and an artist. She has a bachelor's degree in scenography from the Academy of Performing Arts in Fredrikstad (2006), and a master's degree in visual communication from the Oslo Academy of the Arts (2008). Becker is a research fellow at the Oslo National Academy of the Arts with her project Constructed life/Made Life - Staged objects and a staged self where she works with the potential in bringing objects to life, in close dialogue with her alter ego Cynthia.
Espen Klouman Høiner (b. 1981) is an actor, playwright and director. His artistic work alternates between film and performing arts productions and his own text production. He has won the Hedda Prize twice. As an actor in 2013, and as a playwright in 2019. Klouman Høiner is a research fellow in acting at The Academy of Theatre, Oslo National Academy of the Arts, with the project Idiorrythmic presence - Idiorrhythmia as a strategic and conceptual starting point for exploration and development of the creative actor's function in the text-based theatre.