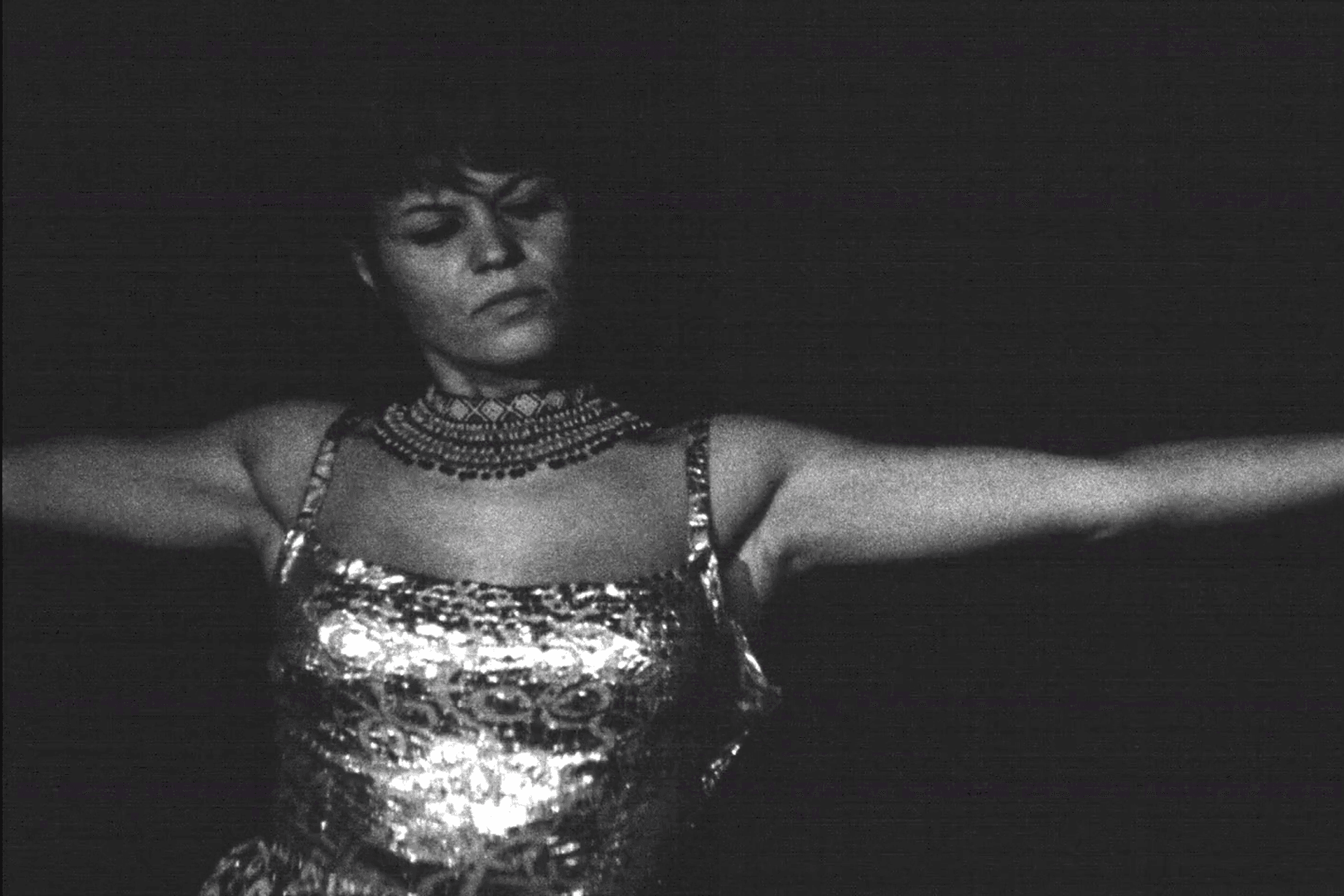 Three lyrical portraits by Sarah Maldoror, Fronza Woods & Marguerite Duras
Film screening and conversation presented by Another Gaze
Saturday 25.06.22
Welcome to the screening of three short portraits by Sarah Maldoror, Fronza Woods and Marguerite Duras! Filmed decades and continents apart, portraits of a pan-African poet, an African-American gym cleaner, and a French sex worker would seem to have little in common. But Maldoror, Woods and Duras, whose voices appear to varying degrees in each film, share similar concerns in the framing of their subjects, with each paying particular attention to their subject's place of work (the study, the pilates studio, the cabaret). Each addresses their subject's upbringing and education almost immediately, not in order to lay the groundwork for their subjects' relative 'invisibility', but with the effect of generating deeply engaged portraits of societies and cultures via individual case studies.
Although all three filmmakers show acute awareness of their subject's marginalisation, the resulting films are far more than representational correctives. These are lyrical and formally experimental pieces of cinema that showcase deeply involved and sometimes fraught relationships between filmmaker and subject.

Curated by Daniella Shreir (Another Gaze/Another Screen). There will be a conversation between Shreir and Mike Sperlinger after the screening.
About the films
Sarah Maldoror, Leon G. Damas (1994, 26 min)
Filmed a decade and a half after the death of the Guyanese poet and politician, Sarah Maldoror's Leon G. Damas is a lyrical portrait of a key figure of the Négritude movement as seen by two of his peers, Aimé Césaire and Léopold Sédar Senghor, who modestly determine Damas to be "the first Negro poet" and the only one to have lived the reality of Négritude. The film is also a document of Guiana's contemporary landscape, where schoolgirls are taught not Damas but Victor Hugo and where the destitute have found shelter in the ruins of a former French colonial prison. Leon G. Damas is one of several portraits of pan-African intellectuals, writers and activists that run through Maldoror's prolific filmography.

Fronza Woods, Fannie's Film (1981, 16 min)
Fannie's Film, the second and last film that Fronza Woods made, follows cleaner Fannie Drayton, whom Woods would often see on the way out of the gym where she was employed as a Pilates instructor. Over footage of daytime workouts performed by the gym's primarily white clientele and Fannie's solitary evening shifts, Fronza asks Fannie penetrating questions about her life and work and is surprised to find a satisfied and pious woman with a reverence for her role. The film is subtitled 'Invisible Women Part I', and it was Woods' intention to continue making films about people who have invisible roles in society, whom (unlike Fannie) she "would observe but didn't know personally".
Marguerite Duras, Lolo Pigalle Stripteaseuse (1965, 15 min)
Lolo Pigalle Stripteaseuse is more of a character study than the seven other interviews Marguerite Duras conducted for DIM DAM DOM, a French television show "pour femmes", broadcast every Sunday from 1965 – 1973. Over vignettes of a day in the life of Lolo Pigalle – as she browses her bookshelves, does her hair in the mirror, and works out at the gym – Duras gives an incisive account of the stripper's background before a musically-accompanied intermission of Lolo's idiosyncratic performance gives way to an intense, unbroken conversation between the two women that touches on questions we are still untangling today, such as the notion of a "real job", the organisation of precarious workers, and the workplace self vs. the authentic self.

In conversation
Daniella Shreir is the founder and co-editor of Another Gaze, a journal of film and feminisms, and the creator of Another Screen, a free streaming platform that features ephemeral programmes and retrospectives of films by women filmmakers, available with subtitles in multiple languages and contextualised by interviews and new writing. She also works in film production and is a graphic designer, photographer and translator from the French, of texts including My Mother Laughs by Chantal Akerman (Silver Press), which won a PEN prize in 2019, and a forthcoming collection of texts by Marguerite Duras about her cinema.
About the filmmakers
Sarah Maldoror (1929–2020) was a political activist, theatre maker and filmmaker and a crucial figure in the development of pan-African, lusophone and revolutionary cinema, best known for her groundbreaking film Sambizanga (1972), likely the first feature to have been directed by a woman in Sub-Saharan Africa. While the importance of the film as a critical touchstone of anti-colonial film cannot be overstated, it was only a small part of her prolific body of work. Over the following two decades Maldoror produced over two dozen films, most of them made for television, including short documentaries about various cultural figures such as Aimé Césaire, Louis Aragon and Léon Damas. Maldoror's work was in conversation with the Négritude movement, launched by Francophone Afro-diasporic writers and cultural producers, and was motivated by a Pan-Africanist perspective which also encompassed an engagement with a broader transnational revolutionary community.

Fronza Woods (b. 1943) is an American filmmaker, best known for short films such as Killing Time (1979) and Fannies Film (1982). Yasmina Price, researcher in the Departments of African American Studies and Film & Media Studies at Yale University writes about her: "Fronza Woods is an artist of evident talent who was failed by an industry characterised by unforgiving financial barriers as well as racialised and gendered exclusion. An incomplete list of what Woods has done includes work as a camerawoman, an assistant sound designer [for John Sayles' The Brother From Another Planet, 1984], a script reader, a film educator and in a community outreach capacity."
Marguerite Duras (1914-1996) was a French writer and filmmaker. Duras was born and raised in Indochina, and often situated the plot in her works to this area. She was active in the resistance during World War II and a member of the French Communist Party until she was expelled in the 1950s. In 1984, she was awarded the Goncourt Prize for the novel The Lover, which also earned her a large readership.