Scenes from a Marriage
Screening of episode 2 , season 2 of Are You Ready?
Sunday 21.11.21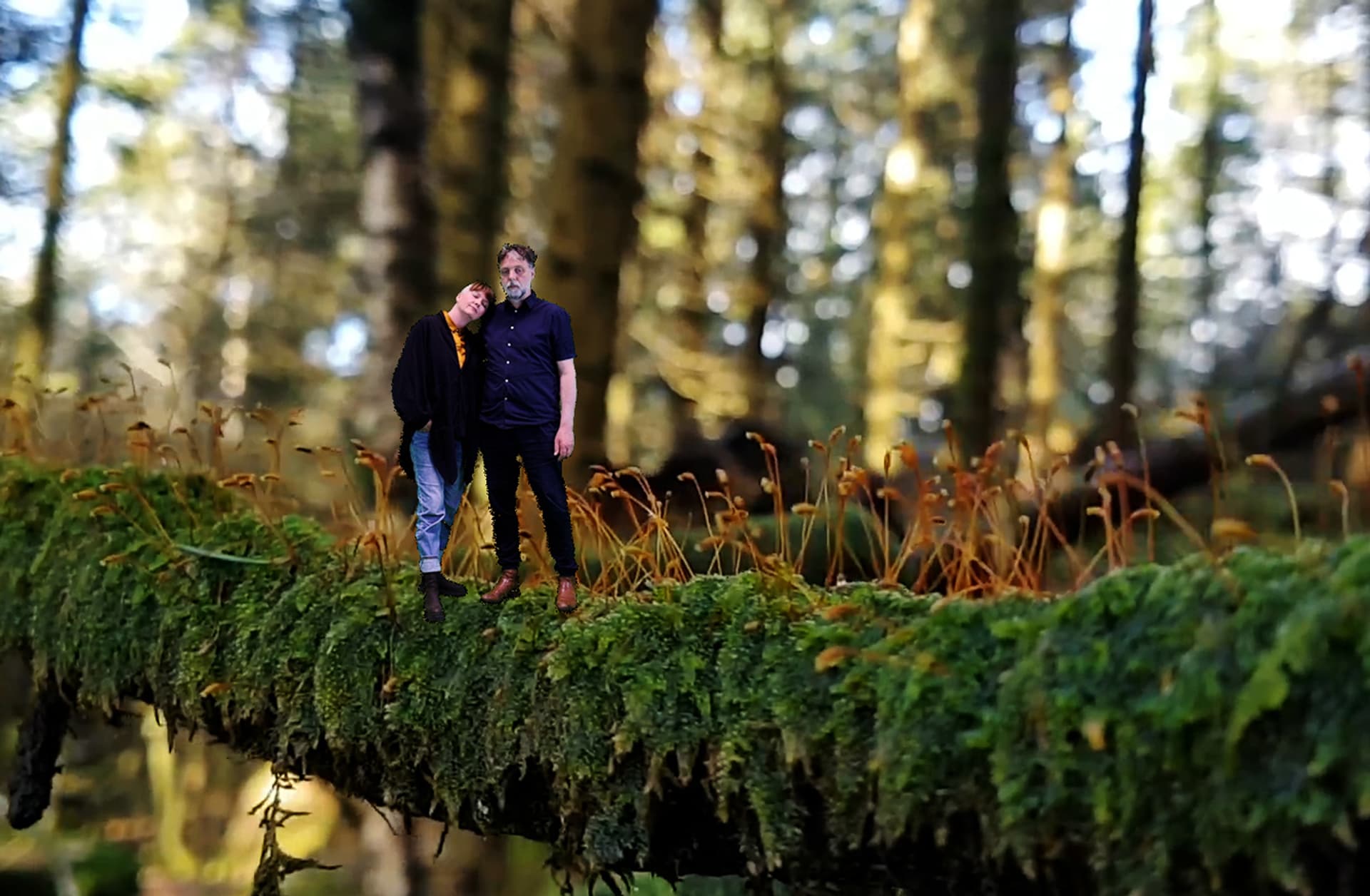 On Sunday, November 21, the artist duo Gitte Sætre and Frans Jacobi open the doors to the cinema at Kunstnernes Hus.

Screening of selected scenes from the first season of Are You Ready?-TV merged with a conversation with the author Erland Kiøsterud and other guests.
About the event
Are You Ready? is a Climate Futuristic Fable, depicting aspects of climate and environmental challenges. The main actor 'The Living Unliving Surveillance Poet', is an unruly ticklish tree resurrected from the rotten leaves of the philosopher Ludwig Wittgenstein's waters of contemplation just below his cottage in the deep end of Sognefjorden. After a lifetime of being infused by the logic and language developed by his philosophical mentor, the Poet starts his journey into the un-logical structures of the human world; monitoring the movements of human civilization.
Are You Ready? is a hybrid tv-series, created by the artist duo Gitte Sætre & Frans Jacobi. The artists also act as a confused couple working their way through the green transformation. Due to covid-19 the first season, The Needle & The Damage Done, evolved almost entirely online. The Living Unliving Surveillance Poet now launches the second season, Hybrids. It celebrates the physical, relational moment with a series of LIVE-events; performances, dialogues and other awkward situations.
Gitte Sætre and Frans Jacobi try to make sense of their thoughts and ideas. In dialogue with a series of guests they will touch upon issues like bio-semiotics, natural cycles of extended entanglement and the reform of everyday life. Beneath all this real world problems are rumbling.

Contributors
Frans Jacobi (b. 1960) is a visual artist (b.1960) based in Bergen and København. Works with performance, film, installation, text and images, often in large scenarios, adressing political issues. Jacobi has exhibited and performed at a variety of international museums and art institutions; i.e. Volksbühne/Grüne Salon Berlin; Hamburger Bahnhof Berlin; de Appel Amsterdam; Museum Fridericianum, Kassel; Louisiana, Danmark; Den Nationale Scene, Bergen. Jacobi is head of department at the Art Academy /University of Bergen.

Gitte Sætre (b. 1975) is a visual artist based in Bergen. Sætre works with political motovated video-performances and collaborative projects, i.e. Woman Cleaning, Soups & Stories, She has made exhibitions at i.e. Guramayne Art Center Addis Abeba; Bomuldsfabrikken Arendal; Oslo Kunstforening; House of Foundation Moss; Artic Artforum Arkhangelsk, Komunitas Salihara Jakarta; Pristine Galerie Monterrey Mexico; WhiteBox New York. She works as discourse-curator at Kunsthall 314 in Bergen and as Head of the Anti-War Initiative.

The Living Unliving Surveillance Poet
Transformation-agent (reborn 2019). Speeches at the openings of PAB Carbon Reflections Festival Bergen, Latent City, BEK / Bergen Kjøtt and Voices of Pythia / Office of Emergency Copenhagen. The Poet presented the first episode of Are You Ready? at Nature as Infrastructure/Manifesta 13 2020. All 7 episodes shown at Bergen Fringe Festival 2021. www.areyouready.tv
Guests

Erland Kiøsterud (b. 1953) is a Norwegian writer. The novels of Kiøsterud are often conceptual and his authorship is characterized by existential and ethical considerations. The first phases of his writing is concerned with rapture and eruptions, genocide and the dissolving of civil society. The last part of his writing investigates and formulates a set of core, foundational narratives. The depth and seriousness of his novels and essays has given him a quite special position in the field of Norwegian contemporary literature.